The People vs. Gold: How Legal Action Can Rid Romania of a Bad Deal
"Blessed are the meek, for they shall inherit the earth, but not the mineral rights," oil industrialist John Paul Getty reportedly proclaimed. The combination of resource wealth and dubious public policy is at play these days in Romania, the site of Europe's largest gold, silver, and rare earth deposits.
Discontent over policy has been growing for years, but only when the Government announced it was adopting a new mining law  did the youth take to the streets in massive numbers. The measure gives the go-ahead to a gold mining project in Rosia Montana, a mountainside township sitting atop fabulous metal reserves. It also permits the lessee, Rosia Montana Gold Corporation (RMGC), to proceed with expropriations while relaxing environmental regulations. When started, the cyanide-intensive development will leave a community devastated, with four mountains turned into 1000 feet-deep craters.
The tens of thousands of protesters marching in the streets for the past seven weeks have called for an immediate halt to the project. More than that, they seek to end a history of rapacious public policies that have been a feature of the country's political life since Romania's communist government was brought down in 1989.
With that kind of history, and with the mining company threatening damage claims in the billions of Euros if stopped from digging, protesters look to the legal system and examples from elsewhere to help with their cause.
There have been hundreds of claims that corruption has been the main driver of the project. Successive governments supported the Rosia Montana project, former political opponents changed their minds inexplicably, and local authorities declared the area mono-industrial—something akin to indefinitely blocking alternative investments. The lease was obtained under a dubious sale of shares in a state-owned mining enterprise, and not by competitive bidding, which is the norm in the U.S. and the European Union.
Other allegations surface daily. Most recently, Natural Mineral Resource Agency officials in charge of approval received all-expenses-paid trips to places like Las Vegas and Rio de Janeiro. Corruption is a legal ground for annulment and would open the door for action by Romania's youth activists.
Why the project is a bad deal for Romania
Gold has been an important resource beneath Romania's mountains since Roman times. Gold extraction was a lucrative occupation for Roman colonists, as unique shovel-dug galleries on the site attest.
Both the people marching in the streets and the politically apathetic want these galleries put under UNESCO Heritage protection, as a means to protect this heritage and attract tourism to the area.
But with the arrival of the venture capital conglomerate Gabriel Resources Company in Rosia Montana, events took a different turn, forever changing the life of this small mountain community.
Gabriel, through its local subsidiary RMGC, put forward a project involving the extensive use of cyanide in an attempt to maximize extraction. The cyanide will be stored in a 250-million ton and multiple-hundred hectare tailing pond – by far the largest in Europe. This already conjures up memories of the massive Baia-Mare spill in 2000, where the overflow from a similar dam severely affected environment and wildlife in Romania and neighboring Hungary.
The 17-year-long exploration will bring out an estimated 330 tons of gold and 1600 tons of silver. This is an impressive figure, given that the annual world production of gold is about 2700 tons. At current spot prices of $1369/oz for gold and $23.22/oz for silver, the treasure chest at Rosia Montana is worth a whopping $25 billion. Geologists expect to find additional rare earths whose value may surpass that figure.
It is doubtful that any of this yield will turn up in the Romanian budget. Royalties had been negotiated at a ridiculously low 4 percent, compared to the norm in more industrialized countries, where royalties, rents, and bids bring in between 12 and 40 percent. A last-minute attempt to raise that figure to 6 percent in exchange for environment and conservation permit approval only infuriated an already skeptical public. Many say leaving the gold where it is and waiting for more environmental technologies in the future is the wiser approach.
Protesters say the real cost of the project is largely externalized to the public. The environmental destruction, the potential for a major spill, and prohibitive costs of dam maintenance are left for future generations to shoulder, with the company devoting very limited resources to reclamation and dam maintenance. These lenient regulations are striking in comparison to the laws on reclamation in the U.S. for instance, where the owner of a mining lease would never get away with anything less than a bond to cover for full maintenance and accident insurance.
A house divided against itself
The real tragedy unfolds with the tales of community division and destruction of livelihoods that the project brings. There will be no digging in Rosia Montana, but 30-ton dynamite charges, able to displace four inhabited mountains. Life as it was can no longer continue while mining is in progress. Seismologists stress that there is little chance that the houses, along with churches belonging to four different religions—typical for Transylvania's multicultural environment—will survive.
Sorin Jurca is one of the few inhabitants of Rosia Montana who has not sold his house to "Gold," as people commonly call RMGC. His house proudly displays a sign on his front window that reads, "This property is not for sale." Sorin is well aware that European legislation—the Charter of Fundamental Rights—protects his right to property and family life. He would not shy away from fighting for justice in court if he is evicted from his house.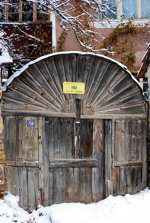 Nevertheless, the community is not what it used to be, he says. People have taken the money the company offered and left the township behind, along with the traditions of a rural lifestyle. Others have accepted offers of employment with the company, but there is no middle ground in Rosia Montana; people are divided into "Goldists" and "Opposition," and one side does not heed to the other, regardless of blood or friendship ties.
Part of the outrage caused by the legislation is its categorization of the project as "of high national interest." This allows for expropriations done by the company on behalf of the state, as well as helps circumvent environmental and cultural heritage rules. Should it pass, locals like Sorin and others will be forcibly moved.
If rejected, the state could face lawsuits for damages. RMGC has invested half a billion dollars into the project already. For the government, that is a portion of GDP it simply cannot afford to pay.
Romania's Teapot Dome?
In many ways, Rosia Montana is reminiscent of the Teapot Dome scandal in the US, which involved leases of important oil reserves in protected areas on a non-competitive basis. In return for the lease, members of the Harding administration received personal benefits. The scheme was exposed, which prompted reform of the mining sector in the US. Leases of any kind can now only be obtained following competitive and transparent bidding in the United States. In the ensuing Mammoth Oil case, the Supreme Court ruled that the United States could cancel any lease issued fraudulently.
That natural resources are particularly prone to corruption is nothing new. Companies factor in the cost of bribes when making an investment decision. However, foreign investment legislation explicitly prohibits acts of corruption. Under the Foreign Corrupt Practices Act, domestic companies can be sued in America if foul play is demonstrated. Canada too has a similar regime that could be particularly relevant in this case. In other words, citizens can sue companies in the country of origin if they have clear evidence of wrongdoing.
Romania has all the necessary legal provisions in place for an interested party to attack the lease awarding procedures in court. In addition, legal instruments like citizens' initiatives—requiring 100,000 signatures—can be confidently used for legislation reform by a public that is largely mobilized already. The protestors have an opportunity to provide alternatives and find a legal solution.
Corruption exposed can hinder the project. In other countries, schemes such as awarding substantial prizes to those who bring corruption to light have functioned as powerful incentives for people to speak up. Despite these incentives, there is little appetite for whistle blowing; corruption can often be a two-way street, criminalizing both the briber and the recipient of the bribe.
The extractive industry has had its own share of reform against corrupt practices and bad environmental standards. Demand-driven reform was called for by Tiffany & Co., the world's largest buyer of gold and diamonds. Almost 80 percent of the world's gold goes into jewelry production, so companies need to be aware that the practices of their suppliers impact their image. Tiffany & Co. put a system of traceability in place and is now the leading member of a coalition for responsible mining.
Back in Romania, faced with street protests, RMGC resorted to nothing short of blackmail; it threatened the government with damages and legal fees of four-billion dollars if it were to back out of its deal, in addition to badmouthing the country for other investors. Outside critics of the protest movement have also chimed in with assertions that the mine is simply being used as a pawn in Romania's political battles.
Hope from a new generation
The fate of Rosia Montana now lies with a Parliament special committee, staffed with public figures that have in the past openly supported the project. Such is the case of Haralambie Voichitoiu, a former mine leader, and former TV anchor Gabriela Vranceanu Firea, who proudly posted a picture of herself in company garment on her Facebook page.
The current Romanian Parliament, a body of 588 Members, severely lacks credibility. With a favorable government and party line dissent close to nonexistent, protesters believe that Parliament's participation in decision-making is akin to mere rubberstamping.
Protesters believe that without their intervention, the project is sure to go ahead and they are therefore determined not to wither. Crowds have defied the rain and the cold weather in what they see as a stand against the government's apparent strategy to buy time.
Protesting more than just cyanide, these active citizens reflect a generation's frustration with ineffective political leadership. The same youth took to the streets in excitement on January 1, 2007, when the country joined the European Union, a lifelong dream that saw Romania return to a family from which it was severed for decades.
But internal bickering and constant gridlock left many opportunities untouched, most notably significant European grants. Infrastructure has been plagued by corruption, with fewer than 400 km of highwaysconstructed in 24 years. A massive exodus and brain drain has rendered the country 20 percent lesspopulous than it was in 1990. The youth is not only saying "No" to a bad project today, but to a history of poor public policy decisions it is determined to redress.
Beyond gold, the youth have had enough of a political system that has worked against their interests.
They are calling for renewal now.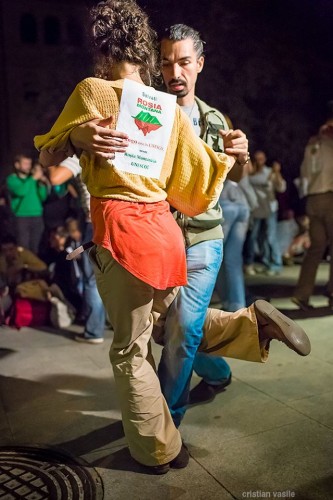 Protestors dance with signs reading, "Tango is protected by UNESCO, we want teh same for Rosia Montana." Photo by Cristian Vasile.